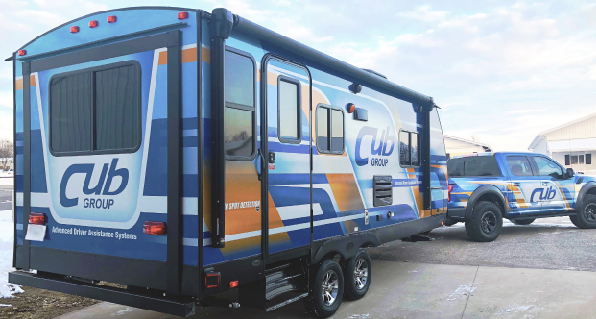 RVs' blind spot detection radar
RV sales in the US in 2017 have reached more than 500,000 cars. As such, the RV market deserves our attention. Cub Elecpart has developed a type of blind spot detection radar for RVs to solve the problem that RVs are much bigger than average passenger cars. All you need is to attach radars to the two sides at the rear, and drivers can instantly know the blind spot status through monitor and alarm. This greatly enhances car safety. This system currently is suitable for most RV types.
Product advantages :
1、 The system comes with a monitor that does not require drilling. The monitor can be placed at any place on the control panel according to the driver's habits.
2、 Two radars attached to the rear left and rear right can help drivers avoid blind spots, since BSD, RCTA, and LCA kick into action.
3、 The system looks really technological and futuristic as the radar is designed according to how the car looks.

Address : NO.6, LANE 546, SEC.6, CHANGLU RD., FUHSIN TOWNSHIP, CHANGHUA COUNTY 50648, TAIWAN (R.O.C.)
Tel: 886-4-778-2010 Fax: 886-4-778-2009
Customer Service: 0800-001-282(0800-001-282-Cub) 10am-16pm(C.S.T.). Mon.-Fri.(Not a Toll-free # for Int'l call)
Copyright © 2013 CUB ELECPARTS INC. All Rights Reserved. E-mail : sales@cubelec.com.tw | WEBmail | Supply Chain